13-02-2020
Booming markets for laser cutting in Toronto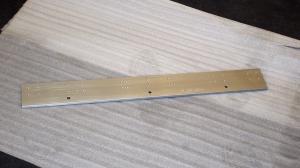 Metal fabricators have been quick in adapting to new, state-of-the-art processing equipment over the years. As a result, laser cutting in Toronto has become a standard yet advanced practice for metal fabricators across the city due to the ever increasing demands from the following industries:
Aerospace
You'd be right in thinking that aerial and space navigation require the best vessels possible. While dimensonally large sheet metal components certainly play a role in vessel assembly, intricate detailings and precise tolerances - tasks best left to fabricators that carry out laser cutting in Toronto - take precedence and make up a majority of the work in industries, like aerospace, that are at the frontier of scientific developments.
Automakers
The production of interiors, handles, hubcaps, bumpers, and other steel-based materials for vehicles come about thanks to fabricators that specialize in laser cutting in Toronto. For vehicles to adhere to safety protocols while also maintaining their signature aesthetic, automakers make every effort possible to work alongside respected fabricators with hardened industry experience, much like 4-Way Metal Fabricators.
Appliance manufacturers
Sheet metal panels and steel frames make up the framework of a whole host of appliances. While traditional saw and weld cutters can handle the work for huge appliances, laser cutters can impart the precision cuts necessary when working with smaller units. What's more, laser cutters diminish raw material contamination by way of using high-intensity heat as their cutting edge.
Medical equipment manufacturers
Similar to appliances, medical equipment requires strict adherence to manufacturer specifications be it for defibrillators, X-ray machines, and/or other components. Renowned laser cutters remain the go-to for delivering fine cuts that ensure metal frame, encasement accuracy, and overall functionality.
Computer component assembly lines
The smallest holes on breadboards and PCBs often use CNC-dependent micro-drills. Laser cutters, however, are now taking over a majority of these responsibilities. The reasons? They complete the project quicker thanks to adjustable heat intensity, faster components processing, and lower maintenance requirements due to the lack of a physical cutting edge.
Sourcing a laser cutting service needn't be difficult…
4-Way Metal Fabricators has been seeing projects successfully through to completion across Toronto since 1975. We've worked alongside clients in a vast array of industries to help fulfill their metal fabrication and laser cutting requirements in Toronto. If you're on the lookout for laser cutting services that stand head and shoulders above the competition then contact us to learn more!