27-02-2020
How powder coating improves your business and environmental practices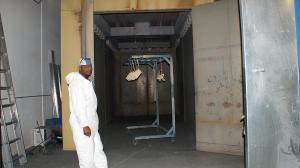 Services dedicated around powder coating in Ontario are a routine process for many metal manufacturing and fabricating companies.
It's no wonder, too - powder coated finishes allow fabricated parts the advantage of being highly resistant to corrosion, chipping, wearing, fading, in addition to other problems that negatively impact service life.
These perks don't have to come at a price either. Let's dissect how powder coating services play an important role in ensuring large-scale industries across the world maintain sustainable practices:
Near-zero to no VOCs
Volatile organic compounds (VOCs) are at near-zero to zero levels when you use services for powder coating in Ontario. VOCs are dangerous because they contribute to global warming and act as a precursor to developing several ailments and diseases when inhaled. Without VOCs, powder coating protects coating personnel too.
Recyclable overspray
Liquid coating and wet paint applications offer the same chipping and wear-resistant surface that services for powder coating in Ontario can achieve. However, the wasted liquid and the eco-unfriendly byproducts of the process are big problems. On the flip side, with powder coating, personnel can recycle oversprays thanks to powder coating ventilation facilities allowing them to use ~90% of the coating effectively.
No heavy metals
Wet paint is known to contain lead or cadmium, two of the most hazardous heavy metals on Earth. They can cause an array of ailments and diseases even post-application due to all the carcinogens paint contains. By contrast, personnel and end-users utilizing powder coating will not have any trouble with heavy metals or carcinogens being present in the finish.
Efficient air requirements
Liquid coating requires prolonged ventilation to help dry and settle the paint. On the other hand, powder coating dries faster. Specialised powder coating facilities allow for immediate recyclable overspray extraction with a shorter operation time when compared to liquid painting areas in facilities.
Work only with the finest Powder Coaters in Your Area
As one of Toronto's most renowned powder coaters, we at 4-Way Metal guarantee all your metal fabricated parts and fittings will have the best coating that allows them to last for decades. Contact us today to learn more about all that we can do for you!