10-08-2017
Quick Guide to Choosing a Reliable and Competent Metal Fabrication Firm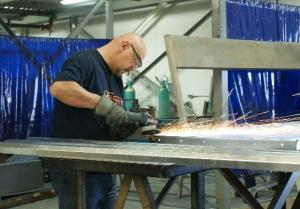 Metal fabrication is defined as a process that involves bending, cutting and assembling metal structures using various metal parts and components. It is a process that requires a high level of skill as well as the expertise to ensure accurate and precise high-quality products. In addition to this, the process of fabricating metals also relies on various tools and equipment to efficiently produce quality end products. In choosing a competent and reliable metal fabrication firm, there are several aspects to be considered. Whether it's for industrial and manufacturing purposes or domestic applications, hiring a reliable and competent metal fabrication company is a must.
The top three things to consider when looking for the perfect metal fabrication firm are the qualification level of the company, the experience and expertise of their workforce, and of course, the tools and equipment that they use.
Qualification and Certification - The company you will choose to fabricate metals for your needs should be qualified and certified. One way of making sure of this is by asking for the business license of the company. Making sure that a firm is qualified and certified will protect you from incompetent workers and unsafe products.

Experience and Expertise - The process of fabricating metals require skills and expertise. Employees with extensive experience will help the company go a long way. So, when it comes to choosing a reliable firm, it's very important to make sure that they have the skill and expertise required to get the job done. Experience will also ensure that they are capable of high precision projects.

Tools and Equipment - High quality fabricated metals require the use of necessary tools and equipment. The firm that you will choose should have the necessary tools and equipment to keep up with your requirements, as well as global industry standards. Having the right tools and equipment will also validate the company's ability to produce the specific metal work you need.
These three important aspects make the qualities of a reliable and reputable firm. Keeping this in mind will help you choose and hire a reputable metal fabrication firm.