26-02-2019
Why You Should Invest In Laser Cutting in Ontario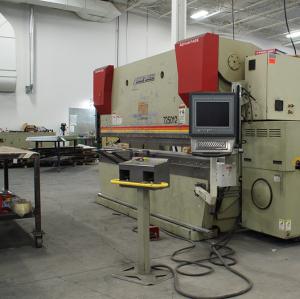 Amid growing demand for customized products, wouldn't it be great to add some custom pieces to your workspace? After all, our offices are where we spent much of our time. You can make the best out of it by making your workspace, factory, or office worth staying at. At 4 Way Metal, we provide high-quality laser cutting in Ontario. Our services can produce a range of metal products to serve any function. This includes both decorative and functional custom metal pieces.
Here are just a few of the custom pieces you can have in your workspace:
Laser Cut Desk Organizer
Declutter your desk with a customized laser cut desk organizer to hold your pens, paper clips, fasteners, and other office supplies.
Laser Cut Frames
Adding pictures of your loved ones can inspire you to be better at your job. Why not customize a laser cut frame for those pictures?
Laser Cut Name Plate
A nameplate identifies and displays your name. You can have it personalized with a custom laser cut with the design of your choice.
Laser Cut Wall Art
If space will allow you to hang wall art, then it's a creative way to add detail to your working space.
Laser Cut Bookend
Another piece that you can customize is a bookend. You can design it to look pretty, funny, elegant or sophisticated.
There are just a few of the many custom pieces you can order from us at 4 Way Metal. There's nothing like having your very own custom products in your business. Whether you seek a decorative or functional laser cut piece, we have you covered.
4 Way Metal Fabricators are your best option when it comes to laser cutting in Ontario. We offer high-quality laser cutting. With our expertise and latest state of the art equipment, we are sure we can cut and shape your desired product according to your specific needs and requirements.
If you are looking for laser cutting in Ontario, don't hesitate to call us.